Team
This is a project lead by professor
Moo K. Chung (PI)
, It's a team effort with other professors
Paul Rathouz
of University of Wisconsin-Madison,
David Zald
of Vanderbilt University and
Benjamin Lahey
of University of Chicago on Tenseness twin imaging data. It also involves twin imaging data collected at the University of Wisconsin-Madison in collaboration with professors
Richard Davidson
and
Hill Goldsmith
.


Project Description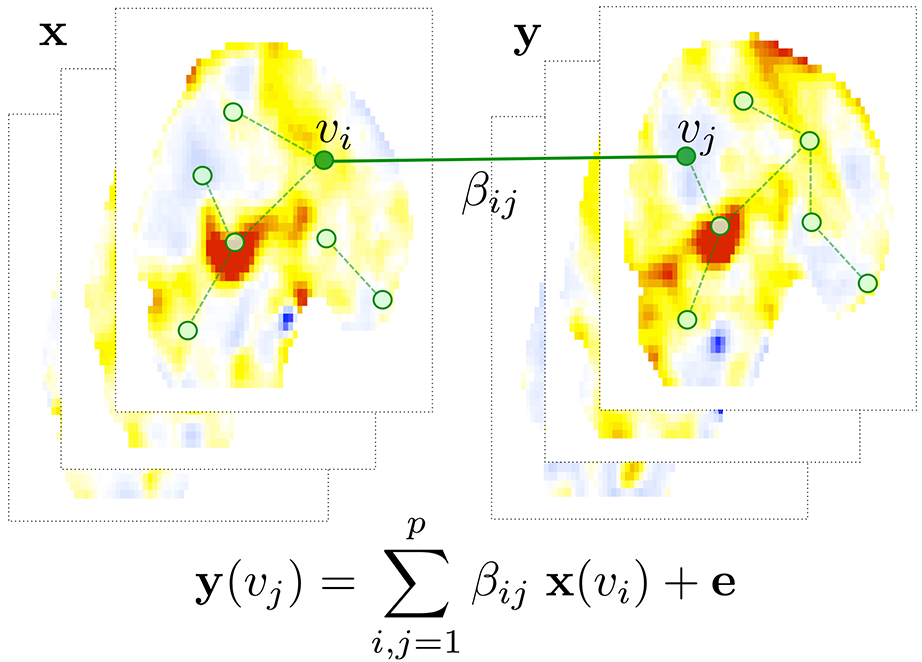 The twin study design offers a very effective way of determining the heritability of the human brain. The difference in variability between monozygotic and same-sex dizygotic twins can be used to determine the heritability of an imaging-based phenotype at each voxel. Except for few well known neural circuits, the extent to which heritability influences the brain network is not well established. Compared to many existing studies on univariate phenotypes in brain imaging, there are not many studies on the heritability of brain networks. Measures of network topology and features may be worth investigating as intermediate phenotypes or endophenotypes. However, the existing brain network analysis has not yet been adapted for this purpose. Determining the extent of heritability of brain networks with large number of nodes is the first necessary prerequisite for identifying network-based endophenotypes. This requires constructing the large-scale brain networks by taking every voxel in the brain as network nodes with at least a billion connections, which is a serious computational bottleneck. We propose to map the heritability of large-scale brain networks by taking every voxel in images as network nodes using persistent homology and sparse network models (Figure 1,2). By exploiting the topological structure of data, we can show that it is possible to bypass the bottleneck and learn networks with billion connections without much computational resource such as cluster computing.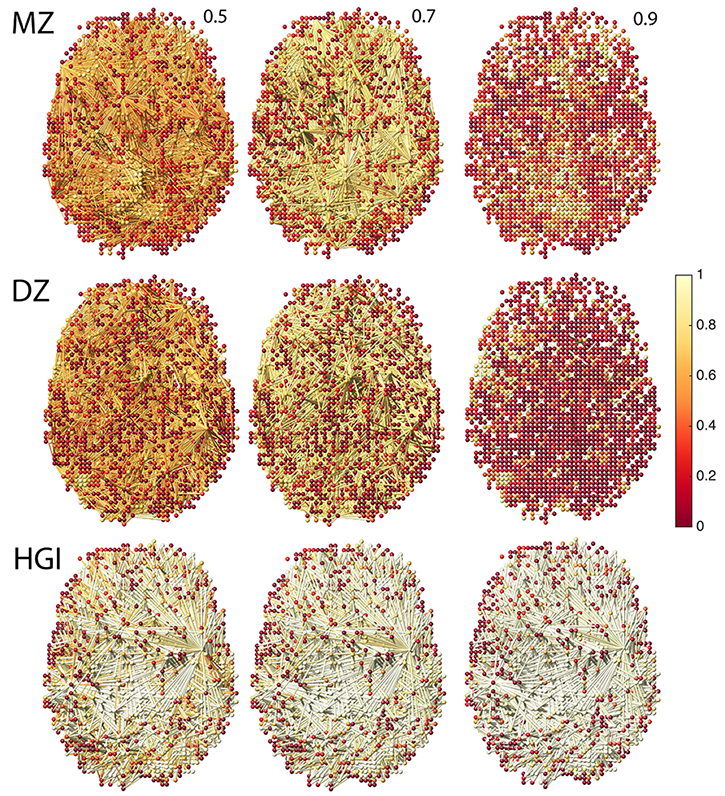 Publication

[1] Chung, M.K., Vilalta, V.G., Rathouz, P.J., Lahey, B.B., Zald, D.H. 2016
Mapping heritability of large-scale brain networks with a billion connections via persistent homology
. arXiv:1509.04771
[2] Chung, M.K., Vilalta, V.G., Rathouz, P.J., Lahey, B.B., Zald, D.H. 2016
Heritability of large-scale functional brain networks
. Organization for Human Brain Mapping (OHBM).
Lecture slides
,
Poster
[3] Chung, M.K., Vilalta, V.G., Rathouz, P.J., Lahey, B.B., Zald, D.H. 2017
Hyper network analysis on paired images
. International Society of Magnetic Resonance in Medicine (ISMRM) lecture slides
[4] Chung, M.K., Vilalta, V.G., Lee, H., Rathouz, P.J., Lahey, B.B., Zald, D.H. 2017
Exact topological inference for paired brain networks via persistent homology
. Information Processing in Medical Imaging (IPMI). lecture slides